In Beverly Hills, the iconic neighborhood immortalized in pop culture as the pinnacle of Southern California glamor and sophistication, a new creation by the renowned architectural firm Studio William Hefner is an extraordinary achievement in modern design sensibilities and timeless elegance. With its prime location in the heart of sunny Los Angeles, an extensive array of amenities and an achingly gorgeous property, it's easy to see what this exclusive enclave of celebrities and titans of industry is so highly sought after.
Life in one of the world's most famous metropolitan cities is never dull. In a city with such extraordinary energy and action, your home must be a private oasis of calm and serenity. 1000 Laurel Way is a home that creates space to relish all the elements, tangible and not of the good life. Strategically designed landscaping creates an intimate and ultra-private backyard with ample space for entertaining or savoring quiet moments by the perfectly still waters of the exquisitely designed swimming pool.
In contrast to the illuminated cool blue waters, a fire element in the form of a modern, sculptural firepit infuses the atmosphere with warmth and drama. Together with the lush green vegetation, a balance of the natural elements is achieved creating an outdoor space that is not only super chic but harmonious and peaceful. The property boasts a detached guest house providing visitors with their own little luxury retreat.
Throughout the home's exquisite interior, a considered approach to contrasts in texture and form results in a well-executed vision of refined luxury that creates extraordinary visual interest out of the decidedly sophisticated yet neutral color pallet. Entering through the dramatic formal entrance into the double-height foyer paved in silky white marble welcomes you in with a sense of sublime grandeur. A vogueish chandelier injects a hint of irreverence into the formality of the space.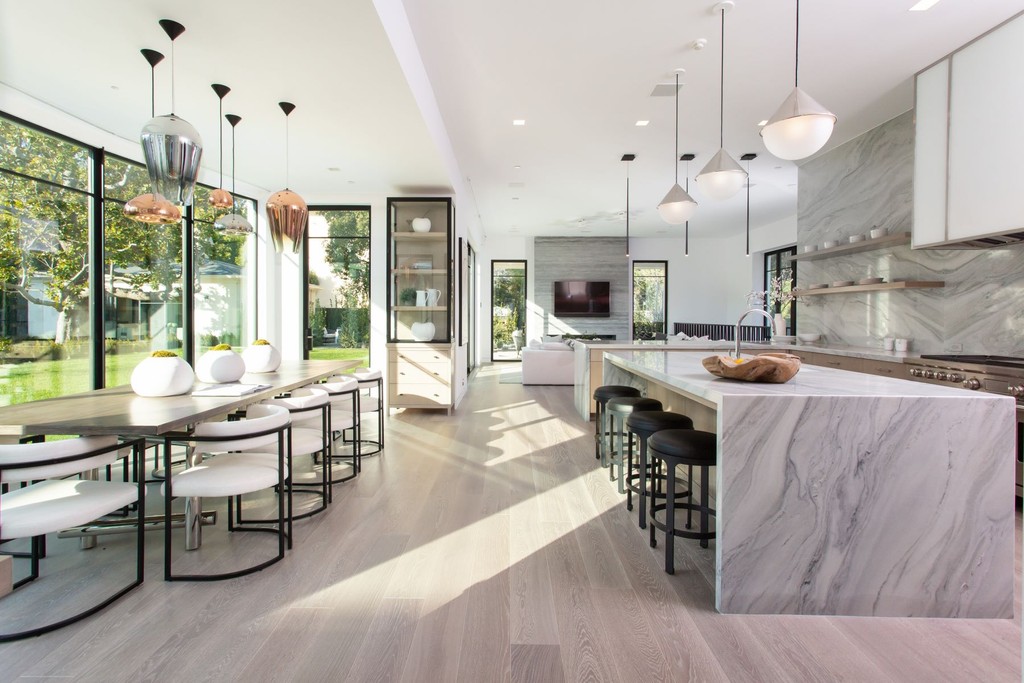 As the heart of the home, the kitchen must consider functionality without compromising style. You know you've nailed it when you have a space that makes food preparation a joyful experience and the comfort and pleasing esthetics of excellent design. The capacious main kitchen is light and airy, with glamourous materials like the marble waterfall countertops harmonize beautifully with elegantly shaped industrial black metal elements.
There are loads of space for the kitchen to be the home's hot spot. In addition to ample bar seating along the main counter and island, a large breakfast table is situated between the kitchen and soaring glass windows that peer into the gorgeous backyard. Similarly, the formal dining room features sliding glass walls that effortlessly disappear for seamless transitioning between indoor and outdoor living.
Is it time for a cocktail? In the formal living room, you will find chic furnishings in decadent textiles, a marble fireplace for atmosphere and a cosmopolitan wet-bar with an art deco flair. Floor-to-ceiling windows flood every corner of the home with light and amplify the spaciousness of each room.
The second floor features an additional family room and four en-suite bedrooms including an exceptional master suite. The extensive master suite wows with dual bathroom wings, a private bar, glamorous showroom closets and several balconies that overlook the beautiful and tranquil backyard.
A double-sided fireplace delivers cozy warmth in the bedroom and a brightly decorated bathroom. Flanking the bedroom to the left is a decidedly moodier bathroom with floors and walls decked out in a breathtakingly chic and modern black marble. Windows and skylights ensure that both bathrooms offer essential brightness.
This inspiring architectural masterpiece offers 15,803 sqft of simply stunning contemporary SoCal style excellence. In addition to the 7 bedrooms and 14 bathrooms, the 0.7-acre property offers a fabulous array of social spaces both indoors and out ideal for entertaining in true Cali style.
The estate features fabulous amenities such as the super stylish home theater and game room where a full bar, wine cellar and chic lounge furniture make for the ultimate hang out spot for enjoying time with friends. A subterranean garage, a home fitness center, sauna, staff suite and elevator round out the offerings of this extraordinary property.
For more information or to arrange a private viewing of 1000 Laurel Way, contact Sotheby's International Realty.